A little while ago. (Actually quite a long time ago) we did a survey about sea usage. We kept it fairly local (Brighton, Hove), and asked questions about what factors help you decide when conditions are good to swim, and what kind of watersport you're interested in.
We also wanted to know about our communities tech-savvyness, (or tech rejection for that matter) as we are interested in technical solutions to our communities' challenges (if tech is what is needed of course) so we can make sure we make user friendly stuff!
The response we got back was huge, and really interesting. A bit of info like this is really useful for us in improving what we make and coming up with new ideas or solutions to problems us sea users have.
Tidey co was founded on the desire to get us in the sea more often and for longer, (and whhen we spend more time in the sea we'll feel good and want to protect it) so this kind of insight is invaluable. And for that we say thanks!
So you guys can see what was shared, here's an (anonymous) snapshot of the results…
First off, here's how we are using the sea. Mostly swim, walking and sailing and a few surf, sup and freedivers.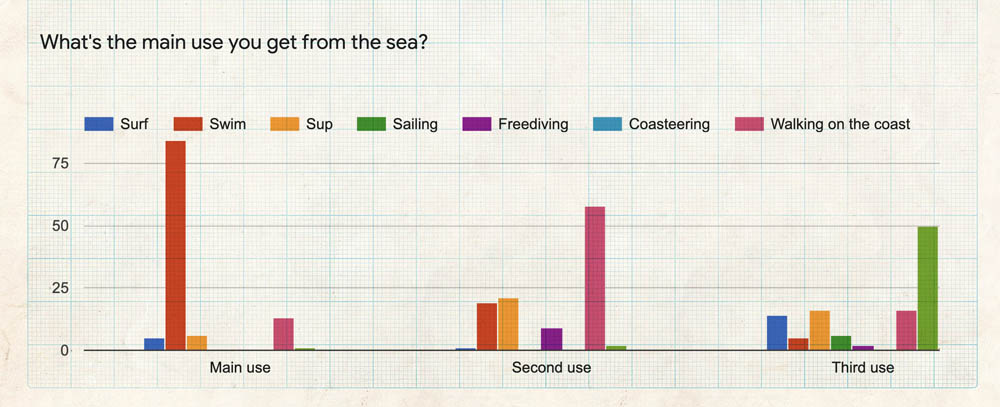 And when it comes to deciding if we're going in the sea today? It was waves and tide height that we check out first:
We then talked about charities, and we got a really good view of what charities spring to our minds when asked (and not prompted). Sooo good to see some local ones really high on the list (Leave No Trace, Sussex Dolphin Project, The Salty Seabirds) and the national big ones scoring high too. (Surfers Against Sewage, RNLI, Sea Shepherd)
Also, over a third of us seek out brands that support charities:

As for our collective tech-savvyness. It seems we are more connected than we give ourselves credit for. With two thirds of us saying we don't know much about "connected tech"
But, we actually own a whole load of tech, and we're comfortable setting up things like wi-fi on other people's devices (98% of us). Pat on the back to us then, for being savvier than we think.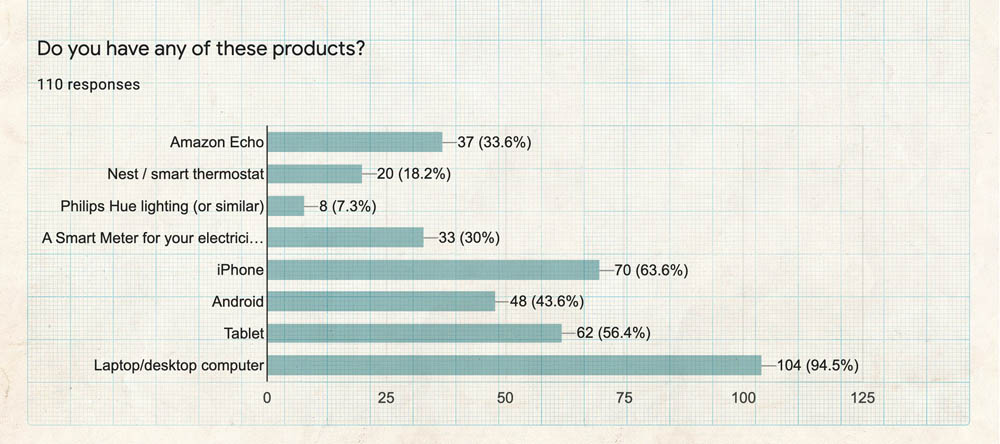 That all for now, we hope this was interesting. Thanks again to those taking part, this really helps us find ways to improve our sea-experience.
We have a new survey out. This time we're talking about the hottest (and stinky-est) issue we face: pollution. Check out our sea and river usage and pollution survey here.