Creating a product that is as sustainable as we can make it, that contains recycled, recyclable or biodegradable materials, and still looks great was central to the Tidey design process and mission.
When we started to create our digital tide clock, we made sure that every decision we made answered these questions:
How can we use recycled, recyclable or biodegradable materials?
How can the production process use as little energy as possible
What non oil-based materials can we use?
What plant based materials can we use?
What materials look and feel good together?
Having these design questions in mind has helped us to keep our impact on the environment as low as possible. We have to admit, we're not perfect, a few things have snagged us along the way, and some processes and materials are not as 'clean' as we'd like, but we're trying.
Designing the front screen of Tidey
For the front of Tidey we chose a FDM 3D printing technique – this essentially allows us to print Tidey fronts, on-demand. We have got the 3D print quality very high, and the 3D print fail-rate fairly low. This a tough one to perfect, 3D printing is not as reliable as injection moulding plastic. With injection moulding you need very high production numbers and risk a great deal more waste.
The material we have used is PLA, or Polylactic acid, this thermoplastic is plant based (no oil, woop woop) and is mainly made from corn starch. At Tidey we have sourced recycled PLA. Our recycled PLA is high quality, creates a really clean finish, and benefits from being non-virgin as it's 99-100% recycled already. As we mentioned, there is a fail rate on the prints, but we recycle those parts to prevent any waste.
What's also great about this material, and vital to the design of Tidey, is that PLA transmits light brilliantly. It's perfect to diffuse the light from the low energy led lights that show the tide height and tide direction. We 3D modelled the front into segments for the lights, and gave each segment a little 'wave' motif – a design touch that really helps create a striking look, whilst communicating the tidal data. Overall, the front of Tidey the tide clock is sleek, clean and illuminates beautifully.
The back of Tidey the tide clock
The back material we chose is a compressed card – "Greyboard" to be precise. Greyboard is quite a quirky design choice – we don't see products made from this very often, it's 'non-perfect', it's textured, and yes, it's paper based. People underestimate this material – it's mostly used for packaging, or is hidden away under laminate or just used for structural stuff. At Tidey we think its lovely – it's warm, rustic but it still has a good sharp finish when laser cut, which s how we use it.
We laser cut the layers on the back of the tide clock out of Greyboard. Then, we stack them up to create a really strong, durable and great looking protective cover for the complex electronics inside. This material has been static-charge tested in the electronics testing lab by us, and it's proved to be perfect for what we need it for.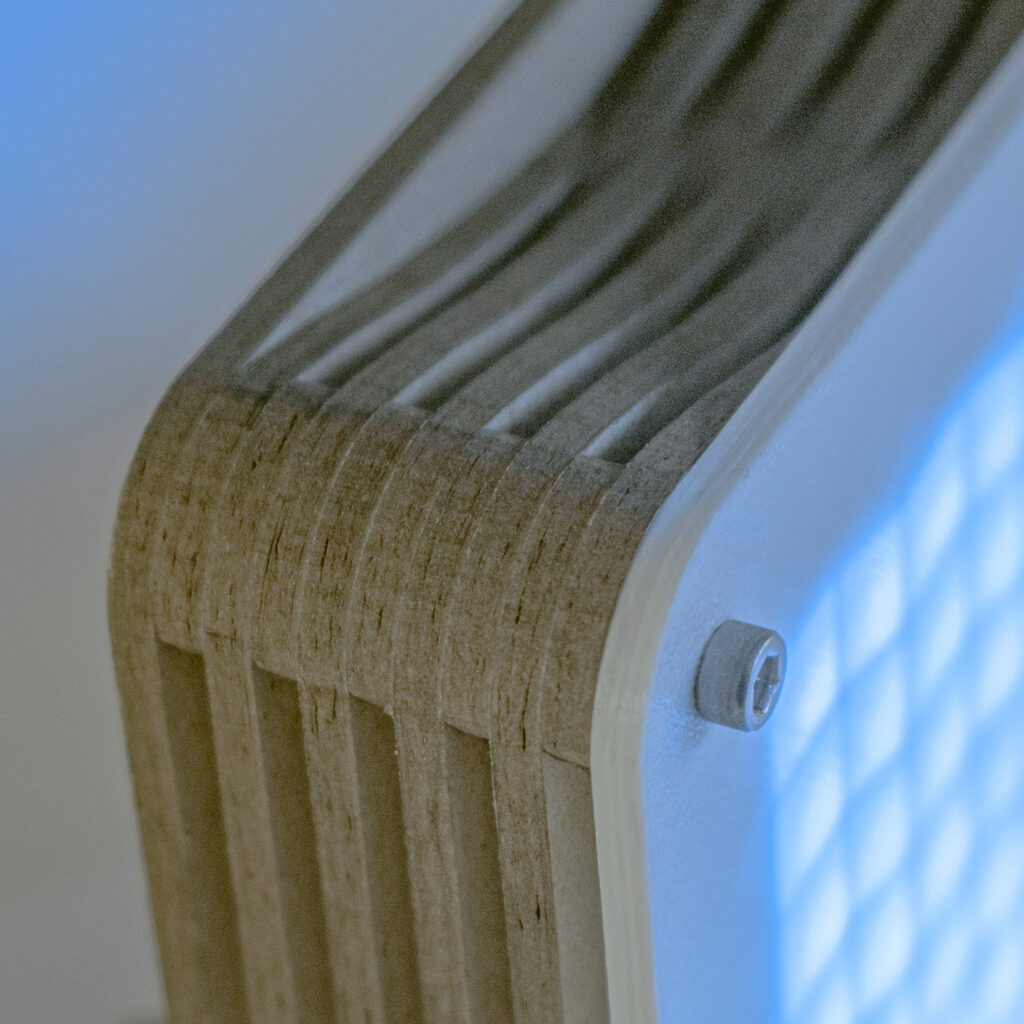 This Greyboard is also already 100% recycled, It's also really easy to recycle again once the tide clock is no longer needed (hopefully not until after many years of use). The only concern we had about this material is that, it's susceptible to water damage (It's paper based so it won't withstand water). Any and all electronics should be kept away from water, and as Tidey is low voltage (5v) this poses very little risk.
Want to know more about Tidey the tide clock? Here are some frequently asked questions, and you can shop Tidey here.